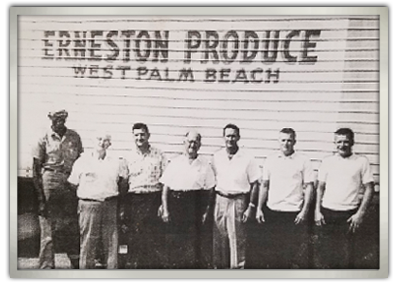 The story of Robert Erneston Produce really goes back to 1923, when as a young Greek immigrant to the United States, Robert Erneston's grandfather Chris opened Erneston Produce and began selling on the streets of West Palm Beach. In those days, it was not uncommon for one to literally have to fistfight the competition to keep one's territory!
Things have changes quite a bit from those days, but one thing has remained constant through the years—for four generations the name Erneston has come to symbolize the highest standard in quality and service in South Florida.
In 1989 Robert Erneston brought that same quality and service to the Treasure Coast, and Robert Erneston Produce Inc. set roots in Stuart, Florida. For thirty years now we've been far more than a produce company, we've been a friend of the community. The spirit of service is not just limited to our customers, it's the culture with which we approach our interaction with the entire community. We have a vested interest in the Treasure Coast. It's not just where we work, it's where we live.
Robert Erneston Produce is proud to serve more than 400 of the finest country clubs, hotels, restaurants, caterers, schools, and retailers in Palm Beach, Martin, St. Lucie, and Indian River Counties.

We specialize in procuring the best quality, peak-of-the-season produce grown from local, national and international sources, and delivering this produce in prime condition. Our heavy volume ensures you get the freshest product with the longest possible shelf life.
Our facility includes a 10,100 square foot warehouse, which houses a vast variety of wholesale fresh vegetables, fruits, dairy products, groceries, specialty products, prepped foods, fresh herbs and spices, dried fruits and beans, frozen meats, canned goods, and paper products.
Our fleet of refrigerated trucks delivers your order twice a day, six days a week.
Delivery six days a week

Service twice a day – trucks leave at 5AM and 10AM to ensure you have what you need, when you need it

Courier service for emergency last minute orders

Full service supplier – produce, dairy, meats, grocery goods, paper products, frozen foods, and specialty items all at highly competitive pricing

On most produce items you may order by the case, pound, or piece, which means you save money on reduced spoiledge

Low minimum order – you don't have to pad your order with unnecessary items to get us to come to your door

National and international broker network

Farm-direct network

Knowledgable sales representatives to help meet your specific needs

Local – we're not just your suppliers, we're also your customers!